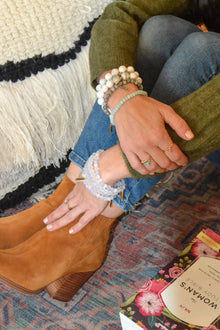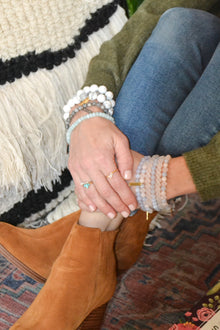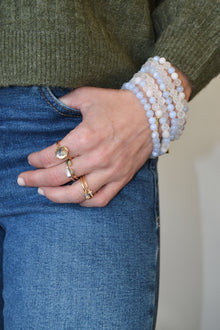 Blessing and Encouragement 14K Plate Multi Gem Bracelet
Style# 14KGiveBlessings
We all need a little help sometimes, for we were not designed to go through life alone.  The "Blessings and Encouragement" bracelet was designed with this sentiment in mind.  Give this bracelet as a gift to offer support to someone in need, to let a loved one know you are thinking of them, to provide encouragement to a friend when they think nobody is listening or to keep for yourself when you need that subtle reminder of God's love.  Soft hues of Blue Lace Agate, Clear Quartz and Rose Quartz create this bracelet and it is finished with a polished 14K Gold Plate hangtag.

1 Thessalonians 5:11 states, "Therefore encourage one another and build each other up, just as in fact you are doing."
Blue Lace Agate: Calming, Clarity, Stress Relief,
Rose Quartz: Inner Healing, Helps Comfort Grief, Promotes Self Love, Unconditional Love
Clear Quartz: Universal Healer, Elevates Thoughts and Perspective, Harmony
Stone Detail: 6-7mm Polished Blue Lace Agate, 6-7mm Matte Rose Quartz, 6-7mm Matte Clear Quartz
Hangtag Size: ½" L x 1/8" W
Approximate Bracelet Length 7-7-1/2", Fits Average Wrist
925 Sterling Silver
14K Gold Plated

All Willa James Jewelry is Nickel Free

Tag Manufactured in Thailand, Bracelet Hand-made in USA
Comes with Signature Willa James Pouch
Please note we use all-natural gemstones and all items are handmade. Your bracelet size will vary slightly and all gemstones will feature color variations and striations making each of them unique, just as we are made.  Please note that Willa James does not claim any healing abilities of our gemstones.  We believe that they function as a gentle reminder of God's ability to handle all situations that life provides us and empowers us to face life with contentment, strength, love, and perseverance.