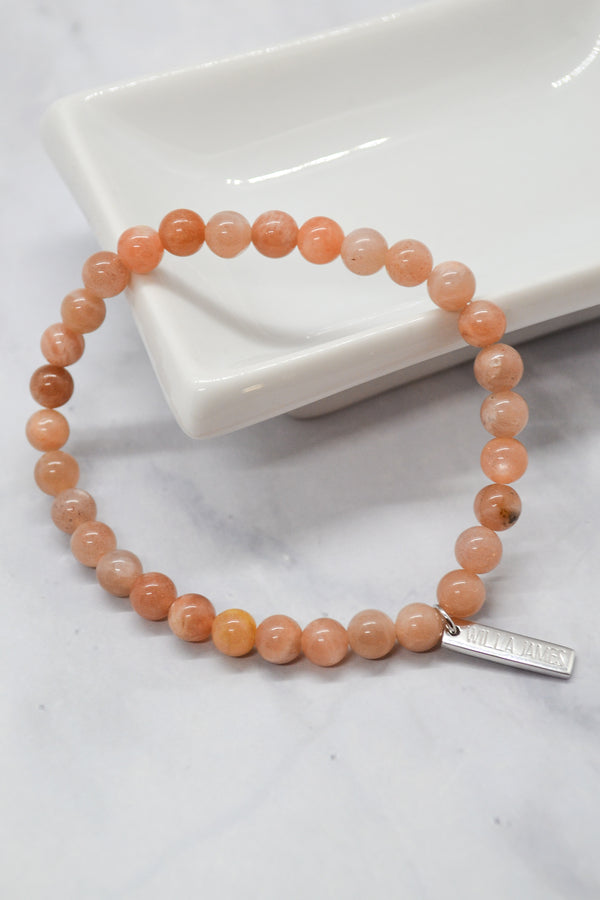 Confidence and Self-Esteem White Rhodium Plate Polished Sunstone Stretch Bracelet
Style# SSConfidenceSS
Whether you are insecure, shy, recovering from an un-healthy relationship or up-bringing, once you are able to shed any of the aforementioned and find your image in Christ is when the "True You" will shine.  This beautiful bracelet was designed to celebrate you, your friend, your loved one, that may struggle with confidence... but we all know you and your friends are fabulous, so lets celebrate all of you with this Collection.  Enjoy the soothing peachy pink tone of this 6-7mm Sunstone Round Stretch Bracelet.
Hebrews 10:35 NIV States: "So do not throw away your confidence; it will be richly rewarded."

Sunstone: H

eightens Intuition and allows the Real Self to Shine through,  Happily Dissipates Fearfulness, Alleviates Stress and Increases Vitality.  Encourages Independence and Originality

Stone Detail: 6-7mm Polished Sunstone
Hangtag Size: ½" L x 1/8" W
Approximate Bracelet Length 7-1/2", Fits Average Wrist
925 Sterling Silver
White Rhodium Plated

All Willa James Jewelry is Nickel Free

Tag Manufactured in Thailand, Bracelet Hand-made in USA
Comes with Signature Willa James Pouch
Please note we use all-natural gemstones and all items are handmade. Your bracelet size will vary slightly and all gemstones will feature color variations and striations making each of them unique, just as we are made.  Please note that Willa James does not claim any healing abilities of our gemstones.  We believe that they function as a gentle reminder of God's ability to handle all situations that life provides us and empowers us to face life with contentment, strength, love, and perseverance.