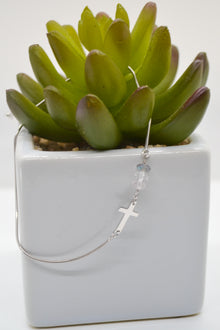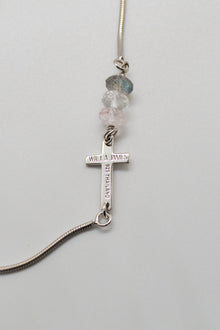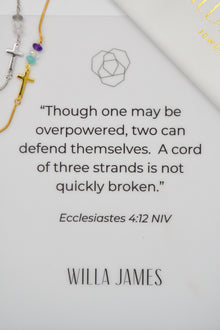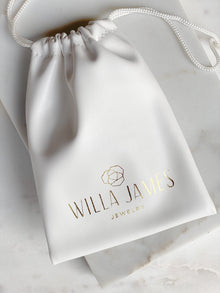 Ecclesiastes Collection White Rhodium Plate Polished Cross Triple Gem Adjustable Bola Bracelet
Style# B-4694RHP
Find your tribe ladies!  We love the Ecclesiastes Collection because it encourages us to surround ourselves with others.  It states, "A cord of three strands is not quickly broken," this was our inspiration in polished side cross bracelet.  We added 3 stones to signify our chord, choosing Clear Quartz, Labradorite, and Rose Quartz.   Enjoy this meaning, or simply enjoy the beauty of this piece.  Bracelet is crafted with a diamond cut snake chain and is adjustable with bola design closure.
Ecclesiastes 4:12 NIV States – "Though one may be overpowered, two can defend themselves.  A cord of three strands is not quickly broken."
Clear Quartz: 

Universal Healer, Elevates Thoughts and Perspective, Harmony



Rose Quartz: 

Known to Open the Heart to promote Love, Friendship, Inner Healing and Feelings of Peace, Restores Trust and Harmony

Labradorite: 

Stone of Transformation, Provides Strength, Perseverance, Strengthens Intuition

Bracelet Measures: 9" Long at Longest Length

Secures: Adjustable Bola Closure
925 Sterling Silver
White Rhodium Plated

Thailand.
Comes with Signature Willa James Pouch
All Willa James Jewelry is nickel free, lead free and cadmium free. Those with metal sensitivities can seek comfort in wearing our jewelry worry-free.