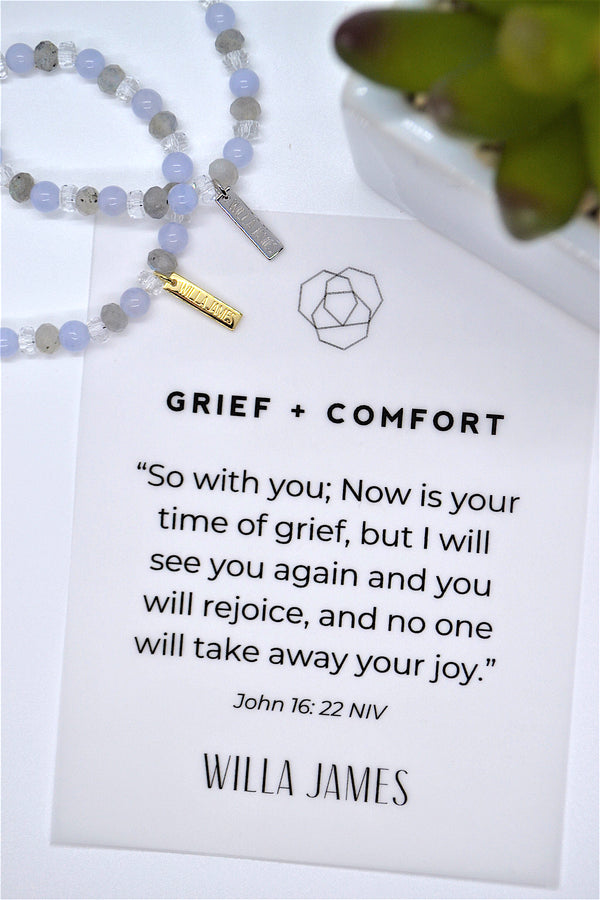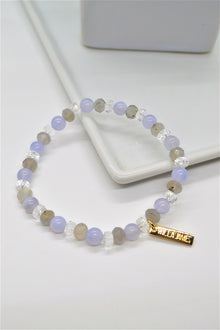 Grief and Comfort 14K Plate Multi-Gem Single Stretch Bracelet
Style#: 14KGriefBLALABCQ
One of the hardest things in life is losing somebody that we love.  Whether it be from a long time illness or a sudden passing, the loss often leaves an indelible scar on our heart.  We don't always know what God's plan is, but can be reminded that he always has one and that our loved ones are now rejoicing in his Kingdom.  This bracelet was designed to be a sweet reminder of your loved one, every time you put it on, you can think of that person, celebrate that person and feel just a little bit closer to that person.

John 16: 22 NIV Says:  "So with you; Now is your time of grief, but I will see you again and you will rejoice, and no one will take away your joy.
Enjoy these comfort filled stones and find peace in knowing that while we may feel the pain and loss of someone, they are rejoicing in God's Kingdom.  This set includes – 1 6x4mm Faceted Rondelle Clear Quartz, 6-4mm Labradorite & 6-7mm Round Blue Lace Agate Stretch Bracelet with 14K Yellow Gold Plate Hang Tag.
Blue Lace Agate: Calming, Clarity, Stress Relief
Labradorite: Stone of Transformation, Provides Strength, Perseverance, Strengthens Intuition
Clear Quartz: Universal Healer, Elevates Thoughts and Perspective, Harmony
Stone Detail: 6x4mm Rondelle Clear Quartz,

 

6x4mm Rondelle Labradorite, 6-7mm Round Blue Lace Agate

Hangtag Size: ½" L x 1/8" W
Approximate Bracelet Length 7-7-1/2", Fits Average Wrist Size
925 Sterling Silver
14K Yellow Gold Plated

All Willa James Jewelry is Nickel Free

Tag Manufactured in Thailand, Bracelet Hand-made in USA
Comes with Signature Willa James Pouch
Please note we use all-natural gemstones and all items are handmade.  Your bracelet size will vary slightly and all gemstones will feature color variations and striations making each of them unique, just as we are made.