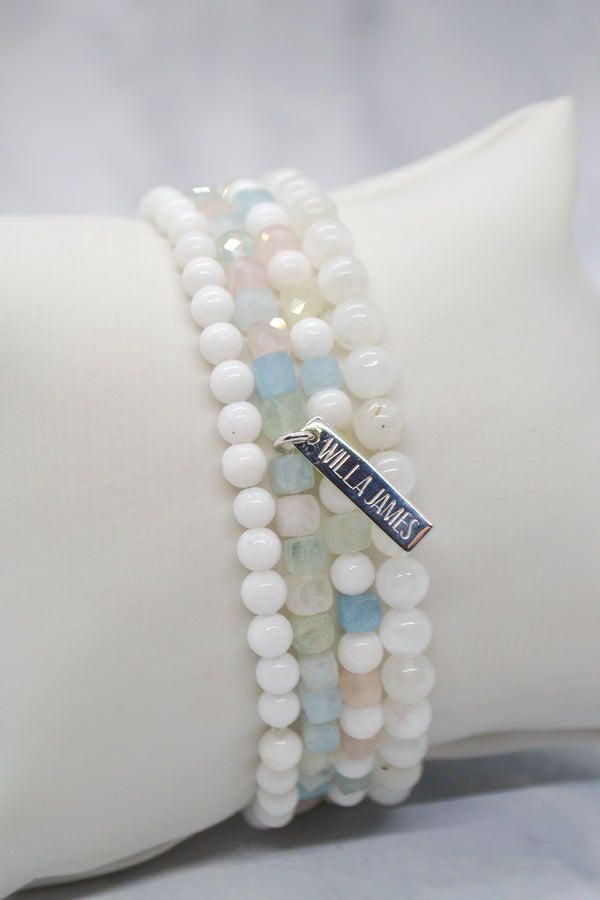 Inner Strength and Determination White Rhodium Plate Set of 4 Gemstone Bracelets
Style# SSInnerStrengthSet
Have you ever been faced with a challenge that just required you to be stronger then you thought was possible?  Most of us have.  Whether it be an illness, an illness of somebody you love, heartbreak, a recent diagnosis, defeat, addiction... anything friends that just required you to become more than you thought you could be.  This is the Collection for you.  The serene hues of the gemstones innately provide you with that extra ability to dig deeper.  Colossians 11:1 captured it perfectly!!
Colossians 11:1 ESV States: "His glorious power will make you patient and strong enough to endure anything, and you will be truly happy."

Morganite: Promotes Inner Strength, Attracts Peace, Joy and Compassion


White Jade:

 

Stone of Accepting things as they are, Promotes Harmony of Mind and Body, Filters Distractions

Moonstone: Soothes Emotional Instability, Balance, Tenderness

Stone Detail: 4x4mm Square Morganite, 4-5mm Baked White Jade, 5-6mm Moonstone
Hangtag Size: ½" L x 1/8" W
Approximate Bracelet Length 7-1/2", Fits Average Wrist
925 Sterling Silver
White Rhodium Plated

All Willa James Jewelry is Nickel Free

Tag Manufactured in Thailand, Bracelet Hand-made in USA
Comes with Signature Willa James Pouch
Please note we use all-natural gemstones and all items are handmade. Your bracelet size will vary slightly and all gemstones will feature color variations and striations making each of them unique, just as we are made.  Please note that Willa James does not claim any healing abilities of our gemstones.  We believe that they function as a gentle reminder of God's ability to handle all situations that life provides us and empowers us to face life with contentment, strength, love, and perseverance.