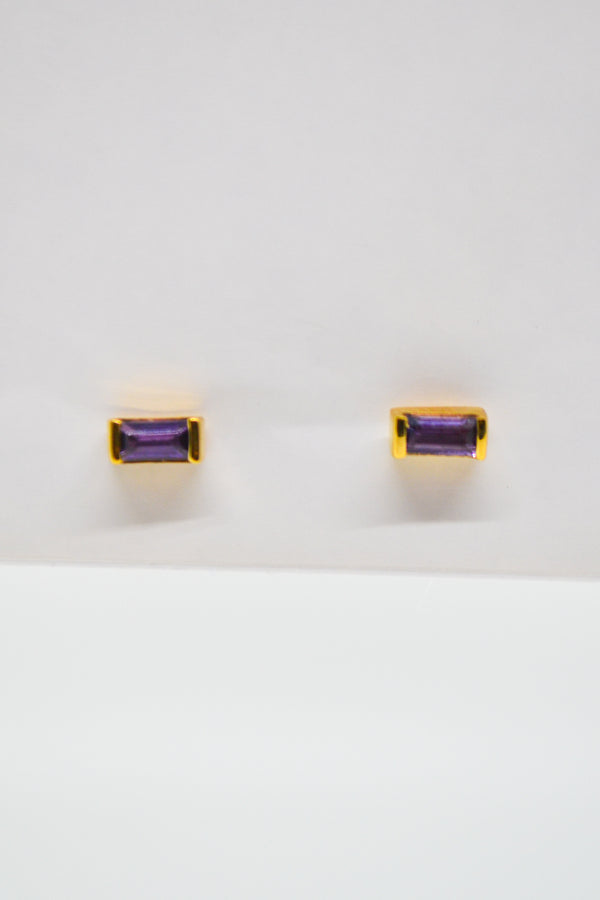 Matthew Collection 14K Gold Plate East/West Amethyst Baguette Stud Earrings
Availability:
10 In Stock
Style# E-8965GPAmy
Have you ever looked at a situation and thought for sure there was no way that you could do it, could get through it, could complete it?  You were probably right, we often lean on our own worldly abilities, our education, our drive, our emotions... and inevitably sometimes we fail.  When we lean into our Lord, all things are possible.  He gives strength to the weak, provision to the needy, peace to the broken.  The Matthew Collection was designed with this in mind.  The use of the various gemstones and symbols serve as a gentle reminder of his power and strength. These earrings feature a faceted baguette gemstone symbolizing the simplicity of leaning in and the power of its return.  For pierced ears only, these earrings features a post back with butterfly clutch.
Matthew 19:26 NIV says: "Jesus looked at them and said, "With man this is impossible, but with God all things are possible."
Amethyst:  Known to sweep away negativity, dissipates anger and enhances the halo of calmness

Earrings measure: 5 mm W x 2.5mm L 

925 Sterling Silver
14K Gold Plated
Ring Can be Sized
Thailand.
Comes with Signature Willa James Pouch
All Willa James Jewelry is nickel free, lead free and cadmium free. Those with metal sensitivities can seek comfort in wearing our jewelry worry-free.