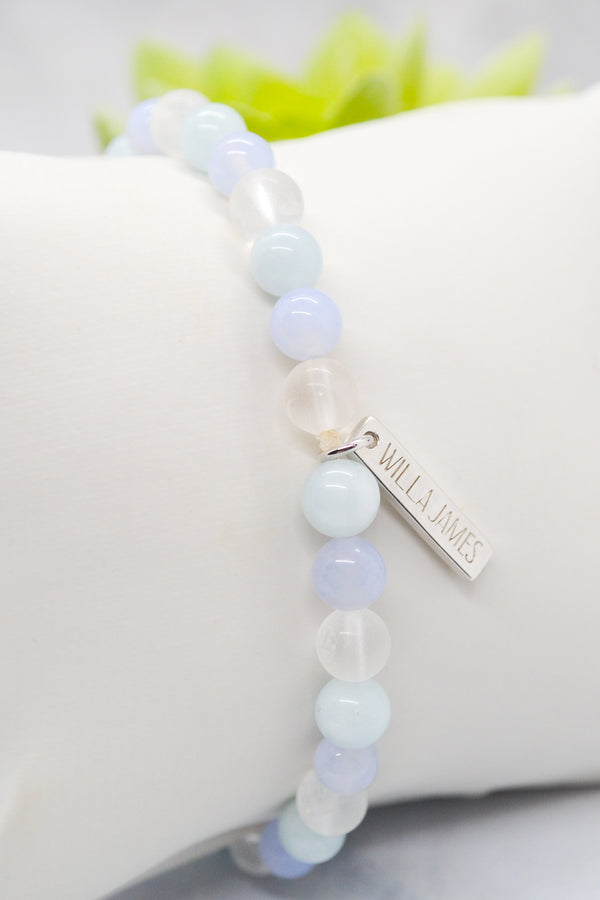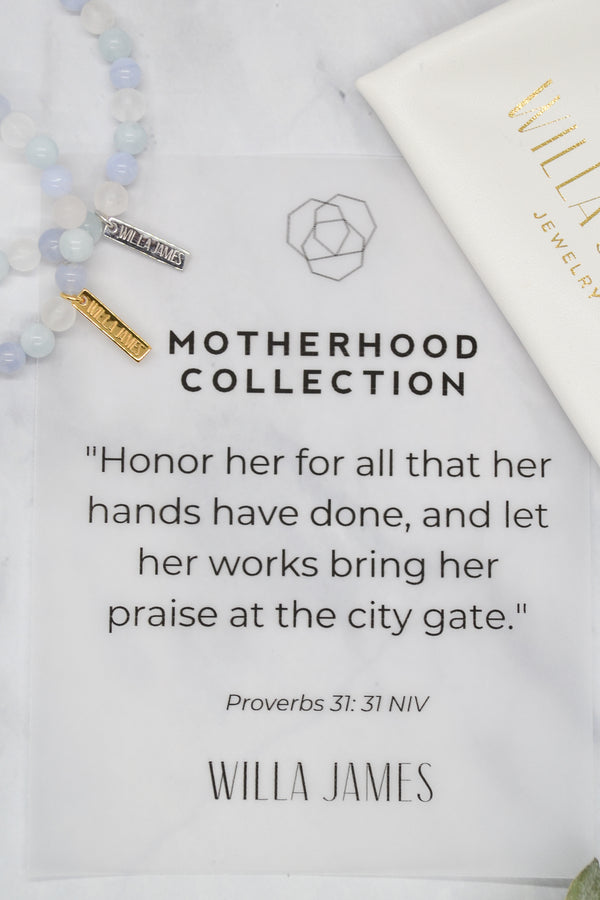 Motherhood Collection White Rhodium Plate Aquamarine, Blue Lace Agate and Clear Quartz Bracelet
Availability:
Out Of Stock
Style# SSMotherMulti
Motherhood... what a gift and challenge at the same time.  This re-invented Collection truly embodies the magnificence that should honor every mother.  Soft hues of Aquamarine, Blue Lace Agate and Clear Quartz provide and subtle peace and beautiful look, much like the mother's we have in our lives.  Whether it be a gift of a self purchase, all Momma's should be celebrated!

Proverbs 31: 31 NIV states:  "Honor her for all that her hands have done, and let her works bring her praise at the city gate."

Aquamarine: Stone of Fearlessness, Protection, Aids in Over-coming Fear of Un-known, stone of Good Luck
Blue Lace Agate: Calming, Clarity, Stress Relief
Clear Quartz: Universal Healer, Elevates Thoughts and Perspective, Harmony
Stone Detail: 6-7mm Polished Blue Lace Agate, 6-7mm Polished Aquamarine, 6-7mm Matte Clear Quartz
Hangtag Size: ½" L x 1/8" W
Approximate Bracelet Length 7-7-1/2", Fits Average Wrist
925 Sterling Silver
White Rhodium Plated

All Willa James Jewelry is Nickel Free
Tag Manufactured in Thailand, Bracelet Hand-made in USA
Comes with Signature Willa James Pouch
Please note we use all-natural gemstones and all items are handmade. Your bracelet size will vary slightly and all gemstones will feature color variations and striations making each of them unique, just as we are made.  Please note that Willa James does not claim any healing abilities of our gemstones.  We believe that they function as a gentle reminder of God's ability to handle all situations that life provides us and empowers us to face life with contentment, strength, love, and perseverance.