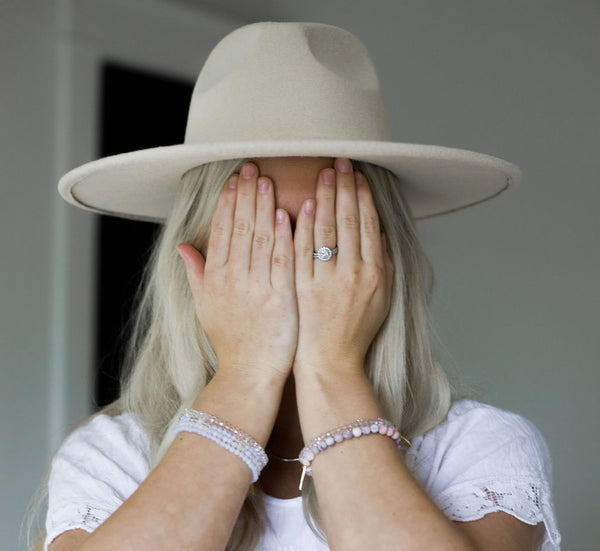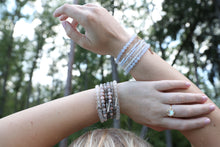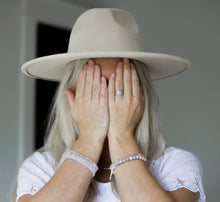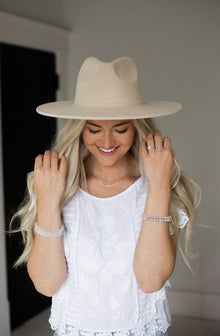 Peace and Freedom 14K Plate Blue Lace Agate Set of 4 Bracelets
Style# 14KPeaceBLAMultiSet
When life presents you with struggles, and anxious thoughts begin to fill your mind, lean in and look up.   How cool is it that we always have a divine power that is looking over us, taking care of us and filling us with peace?
Jeremiah 29:11 tell us: "For I know the plans I have for you" declares the lord, "plans to prosper you and not to harm you, plans to give you hope and a future." 
Enjoy these peace filled stones, soothing your anxieties and worries and amplifying the positivity in your lives.  This set includes – 1 6x4mm Faceted Rondelle Clear Quartz Stretch Bracelet with 14K Gold Plate Hang Tag, 1 4-5mm Round Moonstone Stretch Bracelet, 1 4-5mm Moonstone Stretch Bracelet, 1 4-5mm Multi-Gemstone Stretch Bracelet
Blue Lace Agate: Calming, Clarity, Stress Relief
Moonstone: Soothes Emotional Instability, Balance, Tenderness
Clear Quartz: Universal Healer, Elevates Thoughts and Perspective, Harmony
Stone Detail: 6x4mm Rondelle Clear Quartz, 4-5mm Round Moonstone, 4-5mm Blue Lace Agate
Hangtag Size: ½" L x 1/8" W
Approximate Bracelet Length 7-7-1/2", Fits Average Wrist Size
925 Sterling Silver
14K Yellow Gold Plated

All Willa James Jewelry is Nickel Free

Tag Manufactured in Thailand, Bracelet Hand-made in USA
Comes with Signature Willa James Pouch
Please note we use all-natural gemstones and all items are handmade.  Your bracelet size will vary slightly and all gemstones will feature color variations and striations making each of them unique, just as we are made.