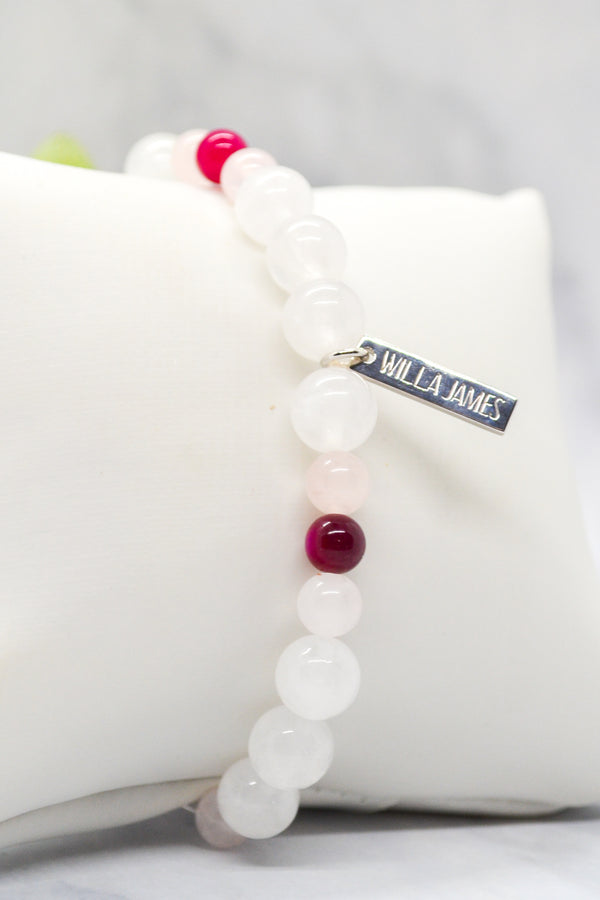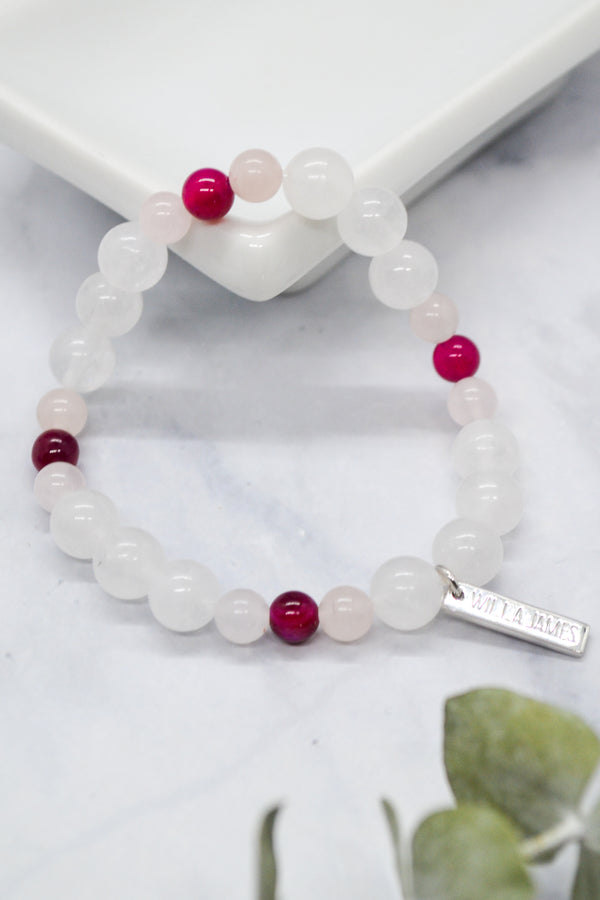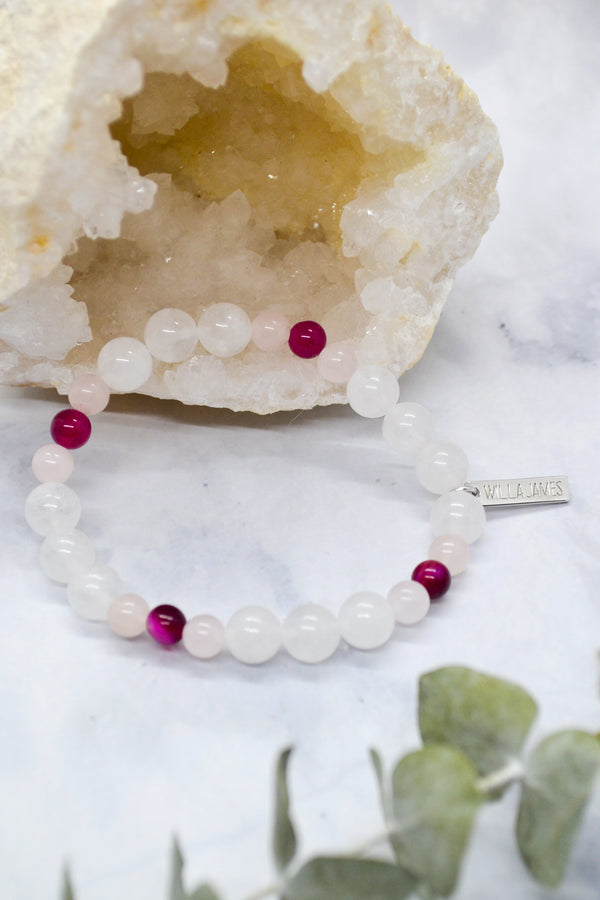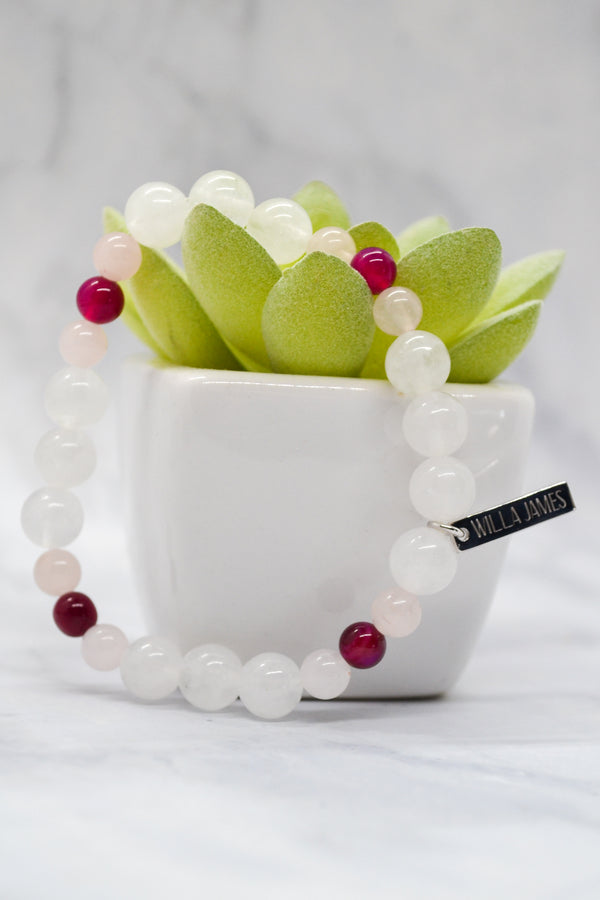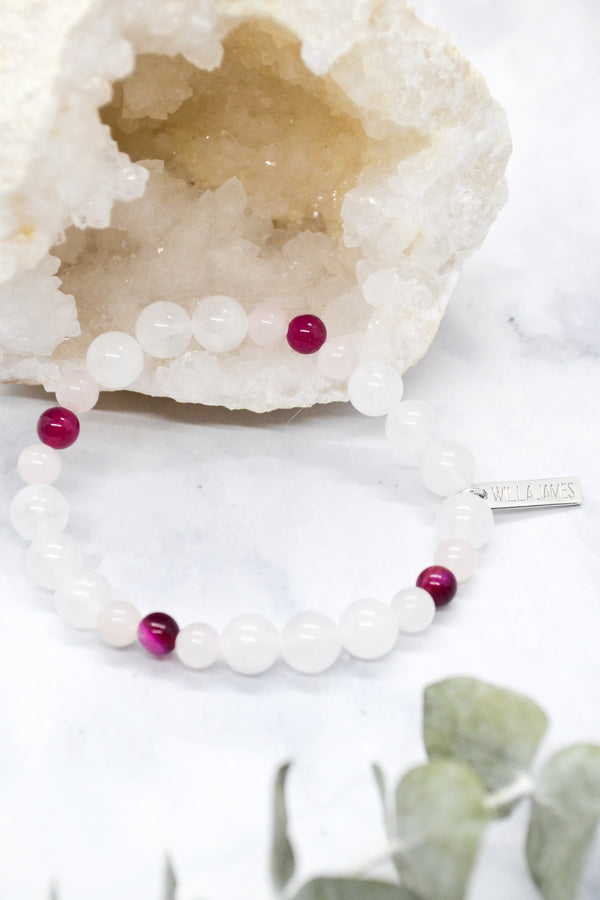 Sisterhood Collection White Rhodium Plate White Jade, Rose Quartz and Hot Pink Agate Stretch Bracelet
Style# SSSisterhood
Whether she be a sister by birth or a sister by choice, being part of a sisterhood is a powerful thing.  This collection was designed to celebrate those bonds and encourage one another.  This bracelet is designed using 8mm polished White Jade, 6-7mm polished Rose Quartz and 6-7mm polished Hot Pink Banded Agate.
Philippians 1: 3-4 GNB States: "I thank my God for every time I think of you; and every time I pray for you all, I pray with joy.""

White Jade:

 

Stone of Accepting things as they are, Promotes Harmony of Mind and Body, Filters Distractions

Rose Quartz:

 

Known to Open the Heart to promote Love, Friendship, Inner Healing and Feelings of Peace, Restores Trust and Harmony

Hot Pink Banded Agate: Improves Energy and Confidence, Helps with Emotional Balance

Stone Detail: 8mm Polished White Jade, 6-7mm Polished Rose Quartz, 6-7mm Polished Hot Pink Banded Agate
Hangtag Size: ½" L x 1/8" W
Approximate Bracelet Length 7-1/2", Fits Average Wrist
925 Sterling Silver
White Rhodium Plated

All Willa James Jewelry is Nickel Free

Tag Manufactured in Thailand, Bracelet Hand-made in USA
Comes with Signature Willa James Pouch
Please note we use all-natural gemstones and all items are handmade. Your bracelet size will vary slightly and all gemstones will feature color variations and striations making each of them unique, just as we are made.  Please note that Willa James does not claim any healing abilities of our gemstones.  We believe that they function as a gentle reminder of God's ability to handle all situations that life provides us and empowers us to face life with contentment, strength, love, and perseverance.