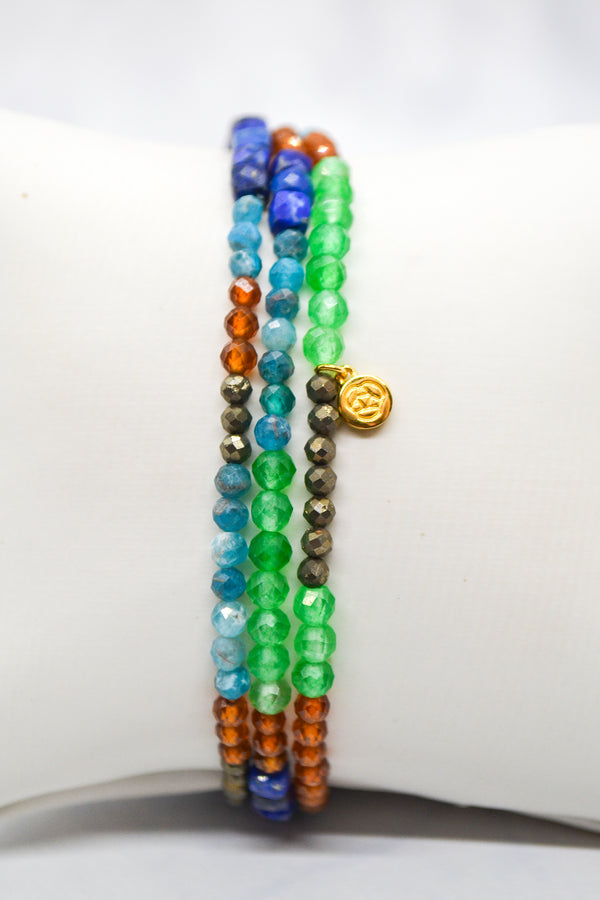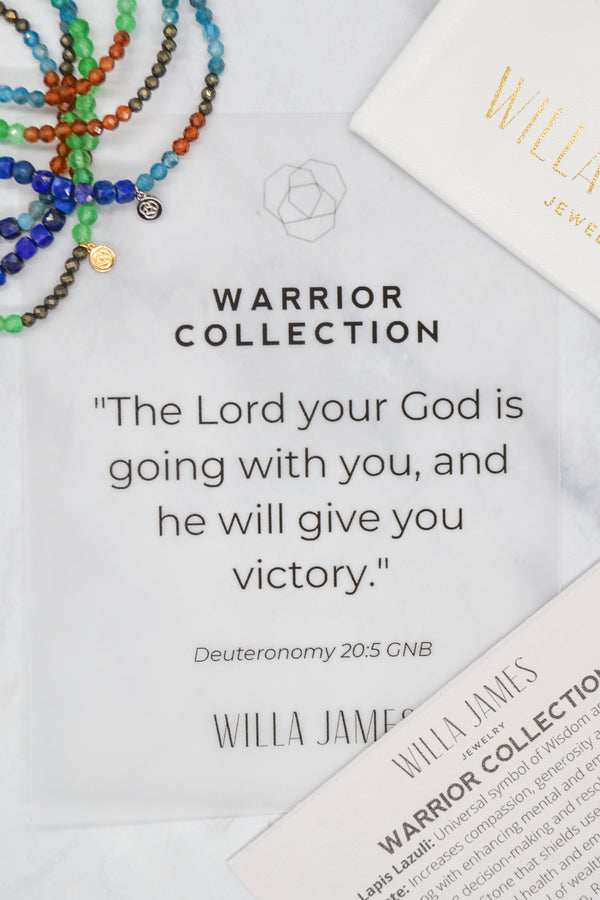 Warrior Collection 14K Plate Set of 3 Multi-Gem Bracelets
Style: 14KWarriorSet

Every life, every person, everybody experiences difficulty in their lives.  Break-ups, abuse, emotional or physical trauma, bad seasons, bad days... it happens!  With God's help we can become victorious over it it, we can become victorious even while we are in it, we can become WARRIORS!!  This collection is designed to celebrate the power we all have in the name of Jesus and to celebrate how far you or somebody you love has come!  Celebrate the Warrior Within with this collection.

Deuteronomy 20:5 GNB states: "The Lord you God is going with you, and he will give you victory."
Lapis Lazuli: Universal symbol of Wisdom and Truth.

Green Agate: Increases compassion, generosity and a keen sense of justice, along with enhancing mental and emotional flexibility, improving decision-making and resolving disputes.

Pyrite: Protective Stone that shields user from negative energy. Promotes good physical health and emotional well-being.  Positive energy, symbol of wealth and good luck.

Apetite: Stone of Ambition, Re-awakens Sense of Clarity
Peach Garnet: Perseverance and Strength, "Commitment Stone" reinforcing tenacity and commitment,  Protection, friendship, trust, commitment and love
Stone Detail: 4x4mm Square Lapis Lazuli, 3-5mm Pyrite, 3-5mm Green Agate, 3mm Apetite, 3mm Peach Garnet
Hangtag Size:

5mm Round

Approximate Bracelet Length 7-7-1/2", Fits Average Wrist
925 Sterling Silver
14K Gold Plated

All Willa James Jewelry is Nickel Free

Tag Manufactured in Thailand, Bracelet Hand-made in USA
Comes with Signature Willa James Pouch
Please note we use all-natural gemstones and all items are handmade. Your bracelet size will vary slightly and all gemstones will feature color variations and striations making each of them unique, just as we are made.  Please note that Willa James does not claim any healing abilities of our gemstones.  We believe that they function as a gentle reminder of God's ability to handle all situations that life provides us and empowers us to face life with contentment, strength, love, and perseverance.