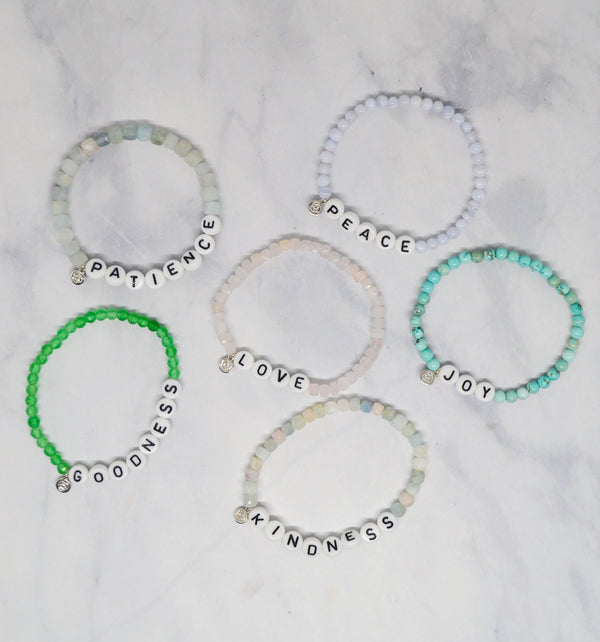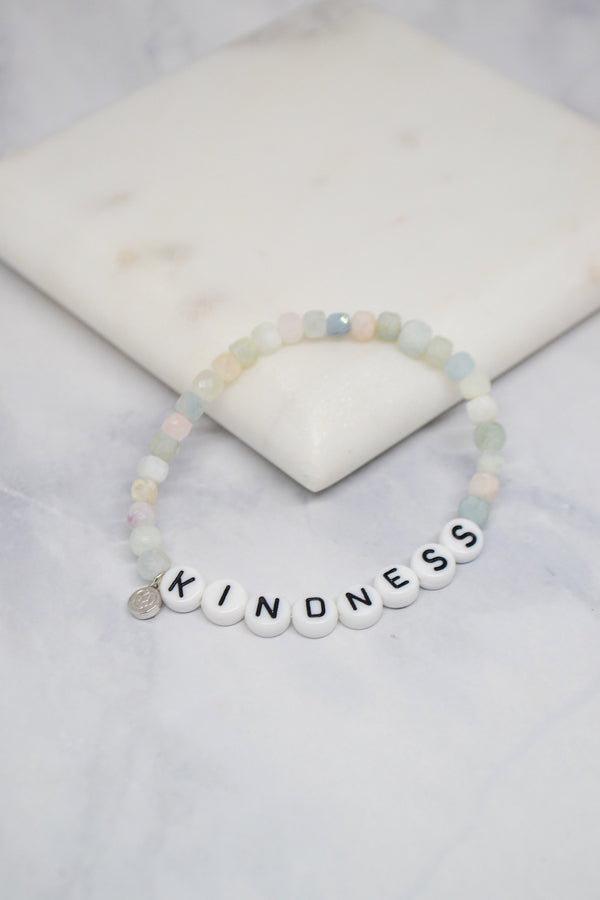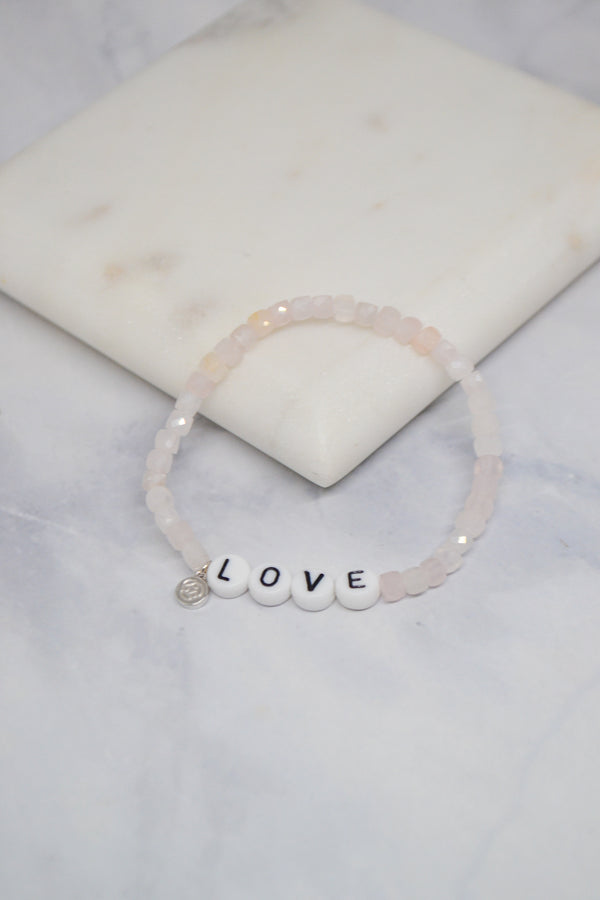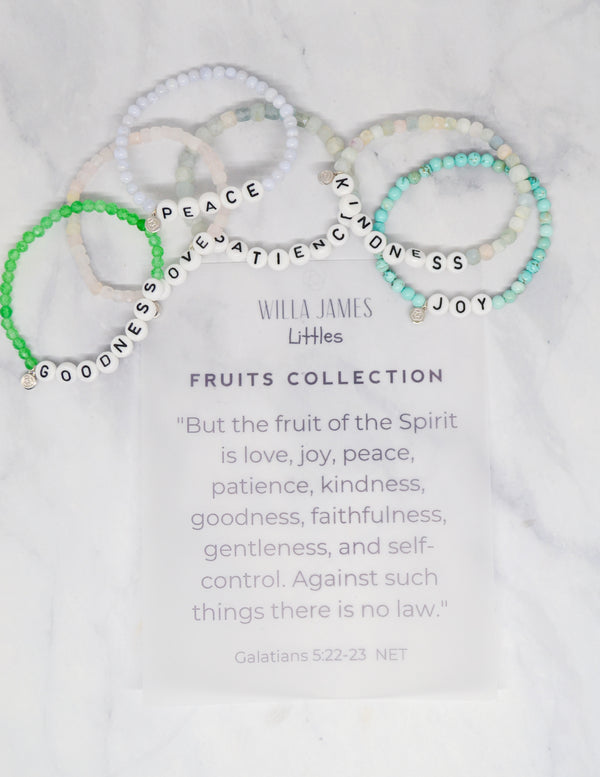 Willa Littles 6.25" Fruits of the Spirit Elementary Bracelets
Style# SSLittlesFruits
God has given us the gift of children, the gift to be their advisor here on earth.  What better way to remind these budding learners, then to give them a gentle reminder of our ultimate goal and guide to live by.  These bracelets are modeled after many of the Fruits of the Holy Spirit.

This bracelet is 6.25" in interior circumference and should fit children approximately 5-10 years of age.  
Galatians 5:22-23 NET states: "But the fruit of the Spirit is love, joy, peace, patience, kindness, goodness, faithfulness, gentleness, and self-control. Against such things there is no law."
Goodness: 3-5mm Green Agate - Known to Increase Compassion, Generosity and a Keen Sense of Justice, along with Enhancing Mental and Emotional Flexibility, improving decision-making and resolving disputes.
Kindness: 4x4mm Morganite - Known to Promote Inner Strength, Attracts Peace, Joy and Compassion
Joy: 4-5mm Round Turquoise - Represents Wisdom, Tranquility, Protection and Hope.
Love: 4x4mm Rose Quartz - Known to Encourage Unconditional Love, Promotes Self-love, Friendship, Inner Healing.
Patience: 4x4mm Aquamarine - Stone of Good Luck, Fearlessness, Protection, Aids in Overcoming Fear of Un-known
Peace: 4-5mm Blue Lace Agate - Calming, Uplifting, Empowering, Provides Sense of Peace and Serenity
This bracelet come with a round Willa James Hang Tag
Approximate Bracelet Length 6.25", Fits Elementary Age Children
Genuine Gemstones
Comes with Signature Willa James Pouch
Please note we use all-natural gemstones and all items are handmade.  Your bracelet size will vary slightly and all gemstones will feature slight variations in color and size, making each of them unique, just as we are made.
Choking Hazard Warning:
Children should ALWAYS be closely supervised while wearing their 'Willa James Littles' jewelry. Never leave children unattended with our products. While the utmost care is taken to ensure that our products remain strong and durable, there is the potential for breakage if care/gentleness with our products is not exercised. Our products contain small parts, which could pose a choking hazard. Jewelry should always be removed during naps, at bedtime and during rides in the car. By purchasing from Willa James, you acknowledge full responsibility and agree to all terms set forth. Willa James, LLC. Assumes no liability for injury, medical issues, or death resulting from product misuse. Supervision is required. ***
This product is NOT teething/nursing jewelry. Do not allow the wearer to place this item in his/her mouth at any time.