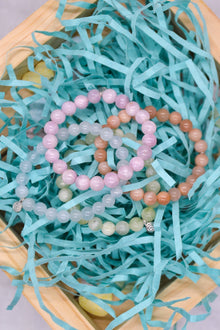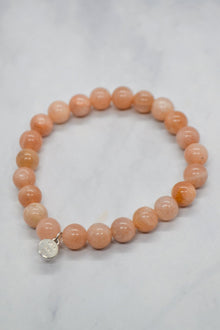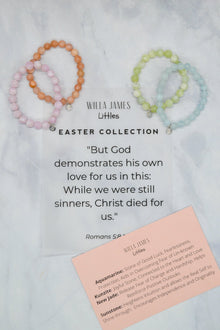 Willa Littles 6.25" White Rhodium Gemstone Elementary Size Easter Bracelet
Availability:
Out Of Stock
Style# Littles6.25Easter
Designed to embrace the vibrant hues of our traditional Easter decor.  These bright gemstone bracelets are the perfect addition to your child's holiday attire, and everyday wear.

This bracelet is 6.25" in interior circumference and should fit children approximately 5-9 years of age.  The Willa James Littles Collections feature a Willa James Tag and are hand crafted with genuine gemstones.
Romans 5:8 NIV states: "But God demonstrates his own love for us in this: While we were still sinners, Christ died for us."
Aquamarine: Stone of Good Luck, Fearlessness, Protection, Aids in Overcoming Fear of the Un-Known
Kunzite: Joyful Stone, Connected to the Heart and Love
New Jade: Releases Fear of Change and Hardship, Helps Reinforce Positive Outlooks
Sunstone: Heightens Intuition and Allows the Real Self to Shine Through, Encourages Independence and Originality
Stone Details: 6-7mm Polished Aquamarine or 6-7mm Polished Kunzite or 6-7mm Polished New Jade or 6-7mm Polished Sunstone
This bracelet come with a round Willa James Hang Tag

Approximate Bracelet Length 6.25", Fits Elementary Age Children

Genuine Gemstones
Comes with Signature Willa James Pouch
Please note we use all-natural gemstones and all items are handmade.  Your bracelet size will vary slightly and all gemstones will feature slight variations in color and size, making each of them unique, just as we are made.
Choking Hazard Warning:
Children should ALWAYS be closely supervised while wearing their 'Willa James Littles' jewelry. Never leave children unattended with our products. While the utmost care is taken to ensure that our products remain strong and durable, there is the potential for breakage if care/gentleness with our products is not exercised. Our products contain small parts, which could pose a choking hazard. Jewelry should always be removed during naps, at bedtime and during rides in the car. By purchasing from Willa James, you acknowledge full responsibility and agree to all terms set forth. Willa James, LLC. Assumes no liability for injury, medical issues, or death resulting from product misuse. Supervision is required. ***
This product is NOT teething/nursing jewelry. Do not allow the wearer to place this item in his/her mouth at any time.