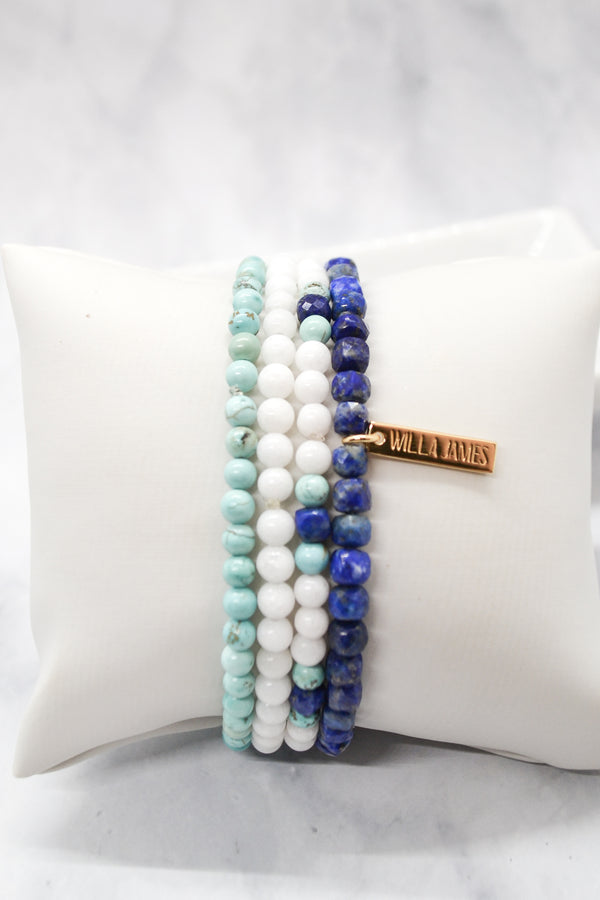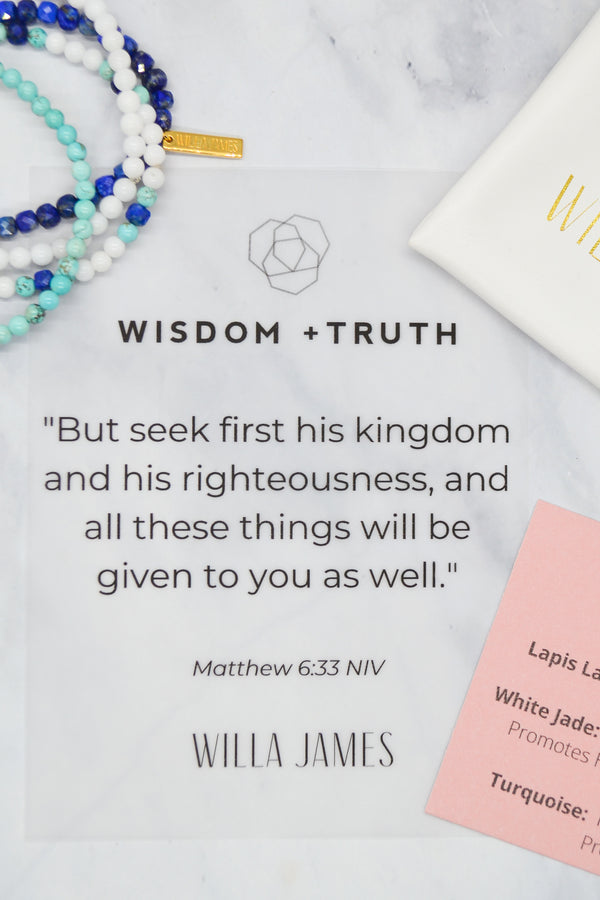 Wisdom and Truth 14K Gold Plate Set of 4 Gem Bracelets
Style: 14KWisdomLap

Whether you be in a season of seeking Wisdom and Truth, or living in the glory of living your own truth.  This beautiful bracelet set is a great addition.

Matthew 6:33 NIV states: "But seek first his kingdom and his righteousness, and all these things will be give to you as well."
Lapis Lazuli: Universal symbol of Wisdom and Truth.

Turquoise: Represents Wisdom, Tranquility, Protection and Hope.
White Jade: Stone of Accepting things as they are, Promotes Harmony of Mind and Body, Filters Distractions

Stone Detail: 4x4mm Square Lapis Lazuli, 4-5mm Polished Turquoise, 4-5mm White Baked Jade
Hangtag Size: ½" L x 1/8" W
Approximate Bracelet Length 7-7-1/2", Fits Average Wrist
925 Sterling Silver
14K Gold Plated

All Willa James Jewelry is Nickel Free

Tag Manufactured in Thailand, Bracelet Hand-made in USA
Comes with Signature Willa James Pouch
Please note we use all-natural gemstones and all items are handmade. Your bracelet size will vary slightly and all gemstones will feature color variations and striations making each of them unique, just as we are made.  Please note that Willa James does not claim any healing abilities of our gemstones.  We believe that they function as a gentle reminder of God's ability to handle all situations that life provides us and empowers us to face life with contentment, strength, love, and perseverance.